Four Winds Club Connection
The Chicago Area Adventure Racing Association is the official Club Connection for the Four Winds Club Team Lottery Program.
What is the Four Winds Lottery Program?
The Four Winds Club Lottery Program was developed to support adventure racing clubs within and outside the US by providing special VIP club entries into designated Four Winds adventure races. This program is in effect for all Four Winds races in 2003 and was developed to support Adventure Racing club growth worldwide by improving inter-club communications and associations with each other.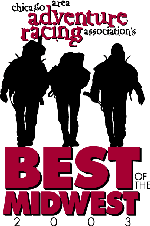 How many club spots are available for each race?
Four Winds has made available 5 lottery spots for each race. The drawing will be held between 45 and 60 days prior to each race. If additional spots become available, Four Winds will pick from the remaining list for each race.
How does my club qualify?
| | |
| --- | --- |
| | Clubs must submit statistics on the size and growth of their club. |
| | Clubs must also allow the posting of lottery information by the Chicago Area Adventure Racing Association to its members on behalf of Four Winds. |
| | If the clubs maintains a website, an active link to the Four Winds site on an upcoming club page with the Four Winds logo is required. A reciprocal link to the club will be provided from the Four Winds site. |
| | Four Winds will look to the clubs for some race assistance, prior to, during, and after the race. This can take the form of some staff assistance with check in, eyes and ears on the race course, course removal post race, course clean up etc., when and where available. Clubs will be contacted prior to the race to discuss these duties. |
What are the benefits to the club?
| | |
| --- | --- |
| | Opportunity to provide a valuable benefit to members at little or no cost to the club. (The lottery includes paid entry fees only. Additional fees such as insurance, etc., will still apply and any other fees outside of team entry). |
| | Club members will be able to apply for a club representative team spot in designated Four Winds adventure races. |
| | Clubs will have access to other club statistical data (clubs will remain anonymous). |
| | Clubs teams will be eligible for a specially designated prize category not available to general applicants. |
| | Club teams entering more than one event will compete in a "Club Connection Category" for a year-end grand prize. |
| | Clubs will have active links from the FW site to their own website. |
How can clubs apply for a spot in the Four Winds lottery?
Clubs can apply for a lottery spot using our easy online entry page. Chosen club teams will be notified by the Chicago Area Adventure Racing Association 45-60 days prior to the event. If selected, chosen teams will then be directed to fill out the team information at the Four Winds web site under their designated club name.
What if I have more questions?
Contact the Chicago Area Adventure Racing Association